Best Key Lime Pie in Florida
 "Best Key Lime Pie in Florida"
Tropical Bakery
OPEN:      10:00 AM to 5:30 PM Monday thru Saturday.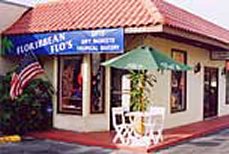 Located at 7642 S Tamiami Trail in Sarasota, Flo's bakery features its Key Lime Pie and Frozen Chocolate Covered Key Lime Pie On A Stick as well as the Passion Fruit, Coconut, and Lemon Beach Pies too! The Honeybell Orange Cake is award-winning, the Tropical Cookies, Quiches and Sweet Breads keep customers coming back. Many specialties can be shipped some are available at the store or for delivery locally only.
Bakery Features
All items can be shipped unless indicated as for "Store and delivery only". Local delivery is available when order totals $25.00 or more. Housebound? Our cakes and pies freeze beautifully. Treat yourself to a delicious slice at a time!
My wife and I walked in for the first time yesterday after being referred by a friend who recommended it for their amazing key lime pie. While they had a... read more selection of pies and treats, we ordered a whole Key Lime pie. It's seriously just...More

Will H


November 6, 2018

I've been going to Sarasota since 1995 and have had some local pies. BUT then...…………. I read about Flo's!!!! Ever since it's the only place I go. I was in... read more Sarasota last week and found out they're closed on Sun & Mon. My wife asked the condo management to get me one so I could have it when I arrived on Sun. I finished that by Mon night. I went in on Tue and got 2 more. Needless to say I finished them by Sat (I even ate some for breakfast).

George B


August 1, 2019

We moved to Sarasota from New Jersey in 2011, and immediately asked around as to whose key lime pie was the best. The answer, almost invariably, was Floribbean Flo's. Not... read more willing to take anyone else's word on such an important issue, I gathered together several...More

susancurtis1


May 21, 2018