Best Key Lime Pie in Florida
 "Best Key Lime Pie in Florida"
Tropical Bakery
OPEN:      10:00 AM to 5:30 PM Monday thru Saturday.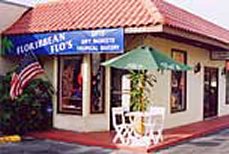 Located at 7642 S Tamiami Trail in Sarasota, Flo's bakery features its Key Lime Pie and Frozen Chocolate Covered Key Lime Pie On A Stick as well as the Passion Fruit, Coconut, and Lemon Beach Pies too! The Honeybell Orange Cake is award-winning, the Tropical Cookies, Quiches and Sweet Breads keep customers coming back. Many specialties can be shipped some are available at the store or for delivery locally only.
Bakery Features
All items can be shipped unless indicated as for "Store and delivery only". Local delivery is available when order totals $25.00 or more. Housebound? Our cakes and pies freeze beautifully. Treat yourself to a delicious slice at a time!

We moved to Sarasota from New Jersey in 2011, and immediately asked around as to whose key lime pie was the best. The answer, almost invariably, was Floribbean Flo's. Not... read more willing to take anyone else's word on such an important issue, I gathered together several...More

susancurtis1


May 21, 2018

Great bakery One of the best pies I have ever had! Took home a chocolate Peanut pie, it was amazing. Prices are very good. Highly recomnended.

Zack G


May 7, 2019

I am from Ohio visiting friends. I shopped at one local business and while there I asked where I could find great key lime pie. The lady replied it is... read more a bit of a drive. Having nowhere to be I drove the 30 minutes to...More

Dweyand


October 26, 2018