Best Key Lime Pie in Florida
 "Best Key Lime Pie in Florida"
Tropical Bakery
OPEN:      10:00 AM to 5:30 PM Tuesday – Sunday.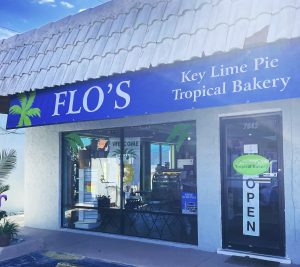 Located at 7642 S. Tamiami Trail in Sarasota, Flo's bakery features Real Key Lime Pie and Chocolate Covered Key Lime Pie On A Stick. You must try our Passion Fruit Pie & Coconut Rum Cake as well! The Honeybell Orange Cake is award-winning, the Tropical Cookies, Quiches and Sweet Breads keep customers coming back. Many specialties can be shipped some are available at the store or for delivery locally only.
Bakery Features
All items can be shipped unless indicated as for "Store and delivery only". Local delivery is available when order totals $25.00 or more. Housebound? Our cakes and pies freeze beautifully. Treat yourself to a delicious slice at a time!

My family and friends have been going to Floribbean Flo's for many years. Not only is there a key lime pie great, but their coconut cream pie is fantastic. Also... read more like their coconut rum cake.

lfc1202


August 28, 2018

Flo's key lime pie is hands down the tastiest and most balanced key lime pie we have ever had. Definitely worth the drive to seek out this jem.

DblZZ


May 10, 2018

Searching for the best Key Lime Pie? Don't look any further. We are getting in line with all of the positive reviews posted on tripadvisor and all over... read more the web, on how fantastic Floribbean Flo's pies are! They are not only made from quality, fresh...More

Robyn B


February 22, 2019