Best Key Lime Pie in Florida
 "Best Key Lime Pie in Florida"
Tropical Bakery
OPEN:      10:00 AM to 5:30 PM Monday thru Saturday.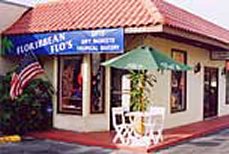 Located at 7642 S Tamiami Trail in Sarasota, Flo's bakery features its Key Lime Pie and Frozen Chocolate Covered Key Lime Pie On A Stick as well as the Passion Fruit, Coconut, and Lemon Beach Pies too! The Honeybell Orange Cake is award-winning, the Tropical Cookies, Quiches and Sweet Breads keep customers coming back. Many specialties can be shipped some are available at the store or for delivery locally only.
Bakery Features
All items can be shipped unless indicated as for "Store and delivery only". Local delivery is available when order totals $25.00 or more. Housebound? Our cakes and pies freeze beautifully. Treat yourself to a delicious slice at a time!

Floribbean Flo's has the best key lime pie. All of the other desserts and treats are just as delicious as the pies. The owner is kind and welcoming. If you... read more are in Sarasota or near it you must go and enjoy!!

Bella M


July 14, 2018

Floribbean Flo's is the most amazing bakery. Passion Fruit was always my favorite until I recently had the Chocolate Peanut Butter Pie!!!!! It's a party in your mouth. I can't... read more get enough of it. Planning a trip back to Sarasota just for the pie because...More

Cindi_Caputo


May 27, 2018

Floribian Flo's has the best Key Lime in Sarasota. My husband has it several times a week, and I always buy it for guests. The other pies are delicious too,... read more as are the Honey Bell orange cake, chocolate chip cookies, and the delicious sandwiches on...More

Glen D


December 10, 2018