Best Key Lime Pie in Florida
 "Best Key Lime Pie in Florida"
Tropical Bakery
OPEN:      10:00 AM to 5:30 PM Monday thru Saturday.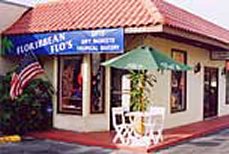 Located at 7642 S Tamiami Trail in Sarasota, Flo's bakery features its Key Lime Pie and Frozen Chocolate Covered Key Lime Pie On A Stick as well as the Passion Fruit, Coconut, and Lemon Beach Pies too! The Honeybell Orange Cake is award-winning, the Tropical Cookies, Quiches and Sweet Breads keep customers coming back. Many specialties can be shipped some are available at the store or for delivery locally only.
Bakery Features
All items can be shipped unless indicated as for "Store and delivery only". Local delivery is available when order totals $25.00 or more. Housebound? Our cakes and pies freeze beautifully. Treat yourself to a delicious slice at a time!

Flo's key lime pie is hands down the tastiest and most balanced key lime pie we have ever had. Definitely worth the drive to seek out this jem.

DblZZ


May 10, 2018

Excellent key lime pie. We don't eat dairy so we only had a small taste and it was sensational. Besides pies, they sell sandwiches to go & gift items. We... read more bought a bottle of authentic key lime juice and made up vegan key lime tarts...More

Lupinski


March 19, 2019

Hidden gem with wonderful pies, olive oils, truffles, and beach gifts. I've purchased 2 key lime pies that we absolutely delicious! You must go if you're wanting pies, sandwiches, or... read more any other delicious desserts. Love this place!

shellyrmaddox


October 17, 2019