Entering The Tropic of Cracker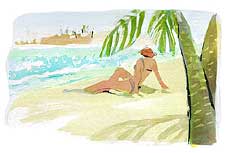 Flo, as you probably read elsewhere, is short for Florida. Besides being her name, it is also where she was born, raised and educated. Being politically correct, now that she's a business woman, Flo won't be pinned down as to whether she's a University of Florida "Gator" or a Florida State "Seminole". Claims her blood is pure Florida enough to qualify as both.
While she loves the beach as much as anyone can, you really can't tell whether her year-'round tan is acquired there or from the near constant exposure she gets tooling around in her everyday Jeep Wrangler or her latest toy, the BMW Z4 roadster.
Her mother, often as not, tries to remind her of her genteel, Southern, Old Florida heritage with its obligations to the pale, powdered look and gentle, almost shy manners. Flo, likely as not, responds with reminders of the modern Florida she has experienced in her short life with all its influences from the nearby Caribbean islands and the constant influx of freethinking, freedom loving people from every corner of the globe. "It's the same Paradise, Mom, we just approach life quite a bit differently now." That helps explain Flo's marital status that everyone seems so interested in. Single, definitely, single. The rumors flying around about a possible "relationship" between Flo and Tommy Bahama are denied emphatically by Miss Flo. She won't even confirm that she knows Tommy, but that doesn't seem to slow down the "sightings". It may just be people's wishful thinking that two such good looking people with so much in common ought to get together.
Flo wants to share some of her favorite Florida stories, some recipes and even favorite spots to visit, whatever she thinks you'll have an interest in. There's truth in some of the stories and most are entertaining, if not gospel. Flo encourages you to share your favorites with her. If you want, she may even put them here so everyone can enjoy. Contact her directly at::
Flo@Floribbean.com