Morgan Bonaparte "Bone" Mizell
Flo's Favorite Cracker Cowboy
Flo gets upset when she learns that someone is unaware of Florida's history as a cattle-raising center. " Hell, Ponce de Leon started it all in 1521 and it's been going gangbusters ever since then!" Flo points out. For a long time most of Florida cattle were shipped to Cuba from a dock in Punta Rassa, a town on Sanibel Island, but the Civil War created a second market for Florida beef. The Confederate Army depended on Florida to feed its armies in Georgia, Alabama, Mississippi and South Carolina.
Most of the cattle ranged in central Florida and one of the more prominent cow towns was Arcadia. While there were cattle kings and cowboys alike in abundance, there was one who's antics separated him from all the rest. Morgan Bonaparte "Bone" Mizell's exploits made him famous at the time and Flo thinks he deserves more recognition now. It wasn't his rugged good looks or his natty attire that earned Bone his fame, as evidenced by Frederick Remington's painting of him entitled, "A Cracker Cowboy."
Like other Florida cowboys he wore boots that extended up to the knees to protect against the saw grass and snakes, a cheap "2- gallon hat" and used a long whip instead of rope, which was useless in the heavy under growth. Cracking these whips to drive cattle earned these cow hunters the nickname " Cracker Cowboys." D. B. McKay in the Tampa Tribune reported that a contemporary described Bone as "an expert horseman and a crack shot with rifle and six-gun, lightning fast at roping and branding, and no four-legged brute was too big or too bad for him to tackle and master."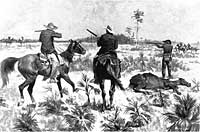 Bone was, some say, the most skilled cow hunter in all Florida and at the same time, one of the most humorous men alive. Some of his humor was self-generated with substantial wit and a wonderful sense of timing. However, his prestigious thirst for strong drink was legendary and created many humorous situations where the laughs were at his expense. In the movie, "Cat Baloo", the title role played by Lee Marvin often comes to Flo's mind when mentally trying to picture Bone Mizell. It seemed that Bone enjoyed being laughed at as much as being laughed with and sometimes he combined both. Such as the time he arrived at a two-story church on Sunday morning after a bout of heavy drinking. He went to the second floor, talked with someone and started back downstairs. He tripped at the top, came tumbling down end over end to land on his feet at the bottom. He responded to the shocked group of people who had observed the fall and asked if he was hurt, "Naw" he said, " That's the way I always come down stairs."
Another favorite story of Flo's about Bone has two versions. V.K. Graham in the Tampa Tribune told of an attempt on the part of several cowboy friends to scare Bone into slowing down his drinking. Bone had arrived in camp dead drunk, fallen off his horse and lay passed out on the ground. The cowboys rested his head on his saddle and then placed a circle of dried, highly flammable cow dung all around him. The first one up in the morning lit the circle of fire, tugged Bone awake while they pretended to be asleep. Bone stood up, looked at the ring of fire, uttered an oath and commented to the heavens, "Well, by God! Dead and in hell! And I'm the first one up.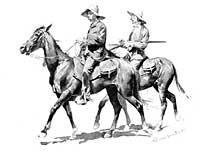 "Another version related how Bone, passed out again, was deposited in a graveyard and one cowboy stayed in the cemetery hidden behind a nearby gravestone. He reported that Bone came to in the morning, sat up rubbing his eyes and staring at his surroundings. In his own ingenious style, Bone commented, "Here it is Judgment Day, and I'm the first one up." Flo thinks both events happened.
Jim Bob Tinsley, in his book about Bone, tells the various versions of what's reputed to be the greatest legend of Bone's humorous life. It starts with his good friend, John Underhill, becoming sick and Bone riding to the cow camp to take care of him. After a few days, John died and Bone admonished the cow hands who were preparing to wash the body before dressing it for burial, "Hellfire no, you ain't going to wash him. You all know he'd never allow it if he was alive and you all ain't going to take advantage of him now he's dead." Subsequently, a young boy from a wealthy New Orleans family drifted into the area became mesmerized by Bone and followed him wherever he went. The boy was described as weak and sickly and he died shortly thereafter with only Bone to take care of his burial. Bone buried the young man next to where he had previously buried his friend John. When the young man's family eventually learned of his death, they sent several hundred dollars to the local undertaker to exhume the body and send it by rail to be reinterred in the family plot. The undertaker paid Bone to retrieve the body. Two things bothered Bone on the way to the gravesites.
The young man, he knew, was fed up with trains and traveling and never wanted to go home again. On the other hand, his friend, John, had always wanted to take a train ride and had never been able to afford to do so. The answer was obvious to Bone and since he was the only one who knew which grave was which, he pointed out the wrong site to his helpers. To Bone's mind, he had done right for both.
Bone's life, his humor, and endless practical jokes became legendary. These are but a few of the tales of his life. His contemporaries as well as today's writers have written about his actions and antics extensively. Flo thinks so highly of Bob Tinsley's book, Florida Cow Hunter: The Life and Times of Bone Mizell, she sells it in her store, Floribbean Flo's. Flo has also been encouraging budding screenwriters and wanabe film producers alike to use Bone's life as the basis of a motion picture. "It's a natural!" according to Flo, "the humor has already been created and the jokes written, by Bone himself."
The only sad note in the entire tale was that Bone Mizell was only 58 years old when he died. Entered, as the cause of death on the certificate was "Moonshine, went to sleep and did not wake up." His funeral was held in Arcadia and he was buried in the Joshua Creek Cemetery.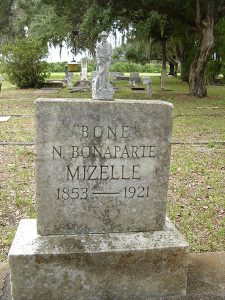 To read more about Bone and his times order:
Florida Cow Hunter: The Life and Times of Bone Mizell
by Bob Tinsley
131 pages, 6×9, Paper for $23.74 which includes Shipping & Handling
Email Received About Bone Mizell
It was nice to read yet another set of stories about Bone.  He was my cousin several times removed and I believe that most of the stories are absolute truth.  I am one of the last Mizell's from my line and my family has deep roots in Pine Level, Florida between Arcadia and Sarasota.  One story never told was about my Grandfather on my mothers side Judge Lewis Purvis and Bone.  One evening Bone in his usual alcoholic state hired my Grandfather who was at the time about 5 years old to drive him around the thriving town of Nocotee.  Not only did he hire the five year old to drive while he sat in the back seat but made sure that his driver had an abundant supply of cheap cigars to smoke during the trip.
John Mizell
Gainesville, FL 32606
————————————————————
An exchange:
Hi Flo,
I'm a local free-lance actor. I just got cast at the Orlando History Museum to do living histories. One of the characters that I have been cast to do is Bone Mizell. It's their script but I'm going to do all I can to research and portray him with as much accuracy as possible. If they ever decide to do the movie, I'd love to be part of it.
Best,
David Preuss
407 673-9125
David,
What a rich role you've gotten. Good luck on this opportunity and I wish you luck in getting the movie role. Florida doesn't have all that many characters in its history that are as interesting and fun. The state ought to finance the production itself with all the attention it would bring to its history.
Flo
Subject: a cowboy from osceola county
im a songwriter from Kissimmee i grew up here my family moved here when i was 2 years old i spent most of my time on this 7000 acre cattle ranch owned by the Brown family i experienced just what Bone went through all their cows were wild scrub cows for years i ve been thinking of writing a song about Bone for many years
and out of the scrub on a strawberry roan rode bone
Nitetrainwayne
From: MarshTaci@
Subject: old florida
My mothers people first signed document in Florida was 1763 not sure how long they could have been here before that, most of them were a little strange but some really good stories and lots of strong women. Daddy's people go back to the indigenous Indians and I am writing a book about that set. But there is a lady who passed on a few years back they called here Miss Lillian and she was from north Florida and wrote quite a bit I have a written interview with her and a taped one she has a different view on OLE Bone Mizell or at least the stories about him. Seems she thinks her brother did some of the things that OLE Bone gets credit for and she has dates and Names. There is history village that was given all her records after her death and they could be used for research. As for the work cracker and Remington well Florida never really liked either one until the 1950s and it became profitable to do so. Remington never liked us either. He considered the real cowboys to be in the West we were just trash. I'll call my people cowhunters men and women cause that what was necessary in Florida before fences, if you wanted to find you cattle. Joyce Peters
And in another email from MarshTaci@
I am holding a cowcamp just as granny Messer would have done with horse and fire at the St. Lucie County HistoricalMuseum on Sept. 25, 2005. I have old Florida in my very soul. Joyce (notice the marshtaci that is the first name for the horse after the Spanish left in what is now Florida. Marsh meaning the land the horse was on and taci was the original name for the horse)
————————————————————
To: Flo
From: bhammergoldenpeacock.com
Haven't thought about Bone Mizell in years. Did a series of TV shows on WINK-TV with Frog Smith, a cracker and artist from Fort Myers. He had stories that went on forever about Bone. I guess my favorite was how Bone was dared to go into the bush after a longhorn and brand him with nothing but his jack knife. Bone went in, there was a whole lot of huffing and snorting from that old bull, and then Bone came out smiling. Said he'd lost his jack knife, but he branded the bull's ear with his teeth. It was fun to think of him again.
Warm Regards,
Beth Hammer
The photos used on this page are from drawings by Frederic Remington in the Florida Photographic Collection of the Florida State Archives