Best Key Lime Pie in Florida
 "Best Key Lime Pie in Florida"
Tropical Bakery
OPEN:      11:00 AM to 4:30 PM Tuesday – Sunday.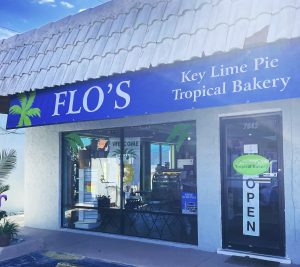 Located at 7642 S. Tamiami Trail in Sarasota, Flo's bakery features Real Key Lime Pie and Chocolate Covered Key Lime Pie On A Stick. You must try our Passion Fruit Pie & Coconut Rum Cake as well! The Honeybell Orange Cake is award-winning, the Tropical Cookies, Quiches and Sweet Breads keep customers coming back. Many specialties can be shipped some are available at the store or for delivery locally only.
Bakery Features
All items can be shipped unless indicated as for "Store and delivery only". Local delivery is available when order totals $25.00 or more. Housebound? Our cakes and pies freeze beautifully. Treat yourself to a delicious slice at a time!

We discovered Flo's 10 years ago when we bought our first key lime pie, and we return for the pie every year. We have tasted none better. You can't miss... read more with any of the other treats, either! Flo's also has a nice array of gift...More

Chris S


February 21, 2019

Authentic key lime pie, smooth and slightly tart. Perfect dessert after a heavy meal. Their orange cake is moist and flavorful.

hbirkner


August 9, 2018

I read about Floibbean Flo's on here so when we arrived from Scotland we had to track it down! I'm so glad we did the Key Lime pie is amazing,... read more light and fresh with an awesome flavour, Publix pie is good but this is 1000% better. My mouth is watering just writing this lol.

Jeniharvey


October 8, 2019