Best Key Lime Pie in Florida
 "Best Key Lime Pie in Florida"
Tropical Bakery
OPEN:      10:00 AM to 5:30 PM Monday thru Saturday.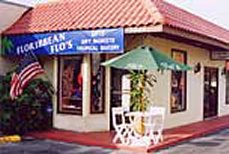 Located at 7642 S Tamiami Trail in Sarasota, Flo's bakery features its Key Lime Pie and Frozen Chocolate Covered Key Lime Pie On A Stick as well as the Passion Fruit, Coconut, and Lemon Beach Pies too! The Honeybell Orange Cake is award-winning, the Tropical Cookies, Quiches and Sweet Breads keep customers coming back. Many specialties can be shipped some are available at the store or for delivery locally only.
Bakery Features
All items can be shipped unless indicated as for "Store and delivery only". Local delivery is available when order totals $25.00 or more. Housebound? Our cakes and pies freeze beautifully. Treat yourself to a delicious slice at a time!

A friend went to this place last week so we knew we had to try it. Our 3rd trip to Siesta Key...can't believe we have not known about this place... read more before. Awesome little hidden gem! sweet couple that owns this place and the man is...More

Brittany M


July 20, 2018

People rave about the key lime but where can you get passion fruit or cream sicle pies anywhere in the US - at Flo's! The pies - all of... read more them - are delicious!! They also offer tasty, unique sandwiches. One of the first things we...More

Congdon


January 26, 2019

One member of my group had the goal of tasting the best key lime pie we could find and research pointed him to Floribean Flo's. We made a specific detour... read more just to pick up a pie and snagged a couple of key lime truffles while we were at it. The shop was in a bit of an odd location that was kind of a pain to access, but the interior was cute and the service quick.
No one had much experience with key lime pies, but we all agreed to rate it 'delicious'. The truffles were also quite good and very large, easily split between two people. They were rated as 'yummy, but not as good as the pie'.

sengokujidai


May 7, 2021