Best Key Lime Pie in Florida
 "Best Key Lime Pie in Florida"
Tropical Bakery
OPEN:      10:00 AM to 5:30 PM Tuesday – Sunday.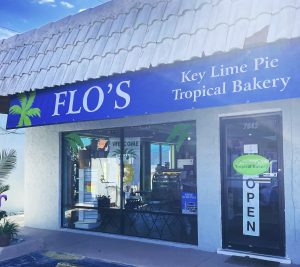 Located at 7642 S. Tamiami Trail in Sarasota, Flo's bakery features Real Key Lime Pie and Chocolate Covered Key Lime Pie On A Stick. You must try our Passion Fruit Pie & Coconut Rum Cake as well! The Honeybell Orange Cake is award-winning, the Tropical Cookies, Quiches and Sweet Breads keep customers coming back. Many specialties can be shipped some are available at the store or for delivery locally only.
Bakery Features
All items can be shipped unless indicated as for "Store and delivery only". Local delivery is available when order totals $25.00 or more. Housebound? Our cakes and pies freeze beautifully. Treat yourself to a delicious slice at a time!

Visiting Siesta Key for 10 plus years and I only found out about Flo's this year! What a treat. I had the Banana pie (chocolate base) and my wife had... read more the Lemon Beach - both were amazing. It's a hidden gem and a must visit if your in Sarasota (near Siesta).
A must try!

Philip K


December 15, 2019

With Jim's Small Batch Bakery out of commission, I was searching around for a bake shop to get something special for my 18 year old son's birthday. I found Floribbean... read more Flo's at 7644 S. Tamiami Trail. I called to discuss a couple of items from...More

007pamelab


January 17, 2019

I have been buying key lime pies (and other tasty treats) from Floribbean Flo's for many many years. They are bar none the very best in the area and my... read more friends all agree. I serve them often for guests and pick one up on a...More

sailorgal4


November 20, 2018