Best Key Lime Pie in Florida
 "Best Key Lime Pie in Florida"
Tropical Bakery
OPEN:      10:00 AM to 5:30 PM Monday thru Saturday.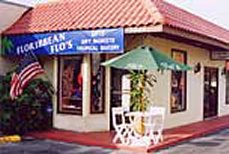 Located at 7642 S Tamiami Trail in Sarasota, Flo's bakery features its Key Lime Pie and Frozen Chocolate Covered Key Lime Pie On A Stick as well as the Passion Fruit, Coconut, and Lemon Beach Pies too! The Honeybell Orange Cake is award-winning, the Tropical Cookies, Quiches and Sweet Breads keep customers coming back. Many specialties can be shipped some are available at the store or for delivery locally only.
Bakery Features
All items can be shipped unless indicated as for "Store and delivery only". Local delivery is available when order totals $25.00 or more. Housebound? Our cakes and pies freeze beautifully. Treat yourself to a delicious slice at a time!

We have been going to Floribbean Flo's for a few years now and have never been disappointed. We love the Key Lime pie, the chocolates and the cookies!

We... read more love supporting a local business and really, you can't beat the pie!
Love it.

mamacush2018


February 25, 2020

I am so lucky to live less than a mile from this place. Key Lime Pie, key lime pie on a stick dipped in chocolate, chocolate peanut butter pie, OMG!!!!!!... read more THE BEST EVER! Just bought pumpkin pie for Thanksgiving (also a lemon beach pie) and...More

lnmvt


November 20, 2018

I highly recommend the Key Lime Pie. We have both served it at our house AND brought it to friend's houses for a dessert that gets rave reviews every time... read more we've served it. You CAN'T go wrong bringing one of their desserts for a dinner!!

Bobke L


September 23, 2018