Best Key Lime Pie in Florida
Wholesale Pricing is offered for most products. Please email customerservice@floribbean.com or call us at (941)922-2888 for specific items not listed below.
A minimum of  75 Cookies is required = $1.25 / Cookie = $93.75
A minimum of 8 Pies is required  = $20 /  Pie = $160
A minimum of 6 Cakes is required = $21 / Cake = $126
Any Full Tray of the same Bar (serves 12+) = $40 / Tray 
A minimum of 8 scones is required = $3.50 / Scone = $28
A minimum of 8 Quiches = $25 / Quiche = $200
We do Not offer Wholesale Pricing on Truffles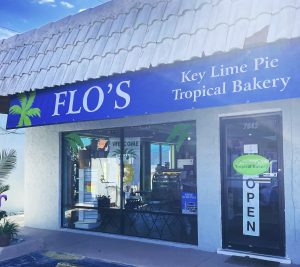 Located at 7642 S. Tamiami Trail, our Tropical bakery features Real Key Lime Pie and Chocolate Covered Key Lime Pie On A Stick. You must try our Passion Fruit Pie & Coconut Rum Cake as well! The Honeybell Orange Cake is award-winning, and the Tropical Cookies, Quiches, and Sweet Breads keep customers coming back. Many specialties can be shipped some are available at the store or for delivery locally only.
Bakery Features
All items can be shipped unless indicated as for "Store and delivery only". Local delivery is available when order totals $25.00 or more. Housebound? Our cakes and pies freeze beautifully. Treat yourself to a delicious slice at a time!

Wow—so glad I found this great little place. The staff is so very friendly, the shop is charming and full of whimsy. The Key Lime Pie is absolutely amazing!

luvbonaire


November 20, 2018

Traveled to Sarasota for my son's family 16th birthday celebration. Needed to get a very special dessert for a larger group dinner out. Flo's Key lime pie with chocolate ganache... read more was to die for! We also ordered a Honeybell Orange cake so we could please...More

cindyI7832AH


March 6, 2019

Having lived in Florida for decades, I've sampled key lime pies up and down the Keys and around the Panhandle. You won't find an authentic key lime pie anywhere better... read more than Flo's. Real key limes and her special recipe make for heaven on earth. It...More

rockd85


April 21, 2018