Best Key Lime Pie in Florida
 "Best Key Lime Pie in Florida"
Tropical Bakery
OPEN:      10:00 AM to 5:30 PM Tuesday – Sunday.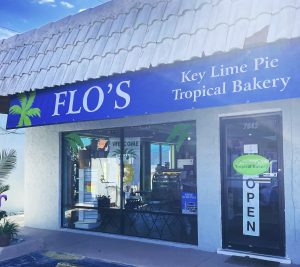 Located at 7642 S. Tamiami Trail in Sarasota, Flo's bakery features Real Key Lime Pie and Chocolate Covered Key Lime Pie On A Stick. You must try our Passion Fruit Pie & Coconut Rum Cake as well! The Honeybell Orange Cake is award-winning, the Tropical Cookies, Quiches and Sweet Breads keep customers coming back. Many specialties can be shipped some are available at the store or for delivery locally only.
Bakery Features
All items can be shipped unless indicated as for "Store and delivery only". Local delivery is available when order totals $25.00 or more. Housebound? Our cakes and pies freeze beautifully. Treat yourself to a delicious slice at a time!
No Results Found
The page you requested could not be found. Try refining your search, or use the navigation above to locate the post.

My husband and I always get a key lime pie from Flo's for guests when we are entertaining. We have never been disappointed with the perfection of the quality, taste... read more and price of the pie! We look forward to having many more family/friend celebrations with...More

Pamela K


July 22, 2018

Fantastic little bakery with the best pies. Worth seeking out, especially if you are a key lime pie lover. The owners are very friendly and very nice to visit with.

MJLA66


October 4, 2019